Continuity, Innovation and Consumption in the Birthplace of the Industrial Revolution
Dr Tamara West and Prof. Mike Robinson


The monuments and collections of the Ironbridge Gorge, one of the UKs first UNESCO World Heritage Sites and the birthplace of the Industrial Revolution, continue to develop via creative practice and production and are increasingly accessed and opened up via innovative digital technologies which impact on the way in which we as visitors explore, engage with and consume cultural heritage.
Ironbridge Gorge was inscribed as World Heritage in 1986 for its significance in the earliest days of the industrial revolution in the first decades of the eighteenth century. Apart from the key sites of the world's first iron bridge (1779) and the world's first coke-fired blast furnace (1709), the World Heritage Site covers six square miles containing 36 scheduled monuments and ten museums. Over a period of over 300 years much of what was produced in this small area of Shropshire was destined for mass consumption and export as production met a growing consumer demand for decorative objects. Domestic functional iron cooking pots and pans produced in quantity in the eighteenth century gave way to highly stylised decorative ironwork in the nineteenth century, which was heavily featured in the 1851 Great Exhibition and subsequent world fairs and international trade events. Ironbridge was not only a place of iron, it was also a leading centre for porcelain manufacture and for a time, the world's main producer of decorative tiles. The companies and entrepreneurs of Ironbridge were attuned to ever-increasing consumer demand and met this with innovation and creativity in design. Most significantly, perhaps, is that it was also from early on, not only the products that were marketed but also the place itself. It was a tourist destination from the late eighteenth century and today it remains an important heritage tourism destination and economy. The nationally designated collections of Ironbridge Gorge Museum Trust (IGMT) provide an important resource through which we can examine how art, design, industry and innovation fused to meet the growing demands of consumers not only in Britain but across the world. The Ironbridge International Institute for Cultural Heritage at the University of Birmingham has a long standing partnership with the IGMT and seeks to explore new ways of accessing and understanding the collections and the wider World Heritage Site not as distanced objects but rather as part of a continual narrative of the Gorge and how this place is itself consumed. Collections are increasingly accessed through new digital media which also holds considerable potential for the new creative and design industries that are present and which constitute the vitality of the site and hold the key to the long term future of heritage communities.
Digital innovation is often seen as a key element within the access and consumption of heritage- and also its co-creation and democratic potential. It has the capacity to alter how we access, interact with, question and experience cultural heritage not only off site but increasingly on site as we move through collections and locations; and thereby not as something that dislocates or disrupts, but as something that forms part of our natural interactions. Digital technologies affect how we expect to see, consume, learn and contribute to –even question – heritage and new visitor experiences and engagement strategies are increasingly designed with this in mind. The shift from heavy industry though to decorative products, artistic design and heritage tourism across the sites within the Ironbridge Gorge is intertwined with the innovations that enabled it, and it is through this continuation via innovation that we might also understand the value of the innovative technologies that seek to open up and make accessible collections and the resultant accompanying need to design interfaces and objects that enable multi use and multi sensory engagement. The University of Birmingham Digital Humanties Hub worked with Ironbridge, and several other regional heritage organisations, to produce multi-user 'touch-tables' that enabled greater access to collections and also contributed to visitor engagement within the sites. From the co-design process, through to the digitisation of collections, the sharing of knowledge, and finally the creation and installation of multi-user touch-tables the idea was always to anable the opening up and also playful engagement with collections. Since then the designers at the Hub have increasingly explored multi-sensory engagement methods via co-design across different communities and end users. It is important to be aware that the experience, education and interaction with cultural heritage can be expanded but also be limited by technology. Co-design and co-creation strategies can help to ensure that the transformations enabled by the digital are available to as many people as possible. Technologies can, and should, demand an embodied use, a touch, a response. This needs to be experienced by different bodies, with different needs and perspectives, and it is only via collaborative strategies that these needs can be understood and translated into experiences that benefit our understanding of and interaction with, heritage. Without such a process the touch-tables, as with other digital technologies, risk becoming nothing but expensive mirrors to the collections around them. Whilst the touch-tables in the Enginuity and Coalbrookdale museums emphasise the playful potential of on-site digital technologies to interpret and engage the visitor with heritage, it is perhaps in the Jackfield Tile Museum where the continuation through innovation aspect of both the Ironbridge Gorge site and of new technologies is most evident. The decorative tiles themselves signified a shift in production, from iron to the exploitation of local creativity to supply a new consumer demand. The old factory showroom itself is preserved, where once buyers would come in and select tiles. The decorative tiles are now searchable via a touch screen in the John Scott Gallery. Visitors can now scroll through the beautiful tile collections electronically, opening up, expanding, and experiencing – consuming, of course, but also reflecting upon shifts in industry, art, and heritage itself.
Links: http://www.ironbridge.org.uk/ http://www.birmingham.ac.uk/schools/historycultures/departments/ironbridge/index.aspx http://www.birmingham.ac.uk/facilities/digitalhumanitieshub/projects/demonstrator/index.aspx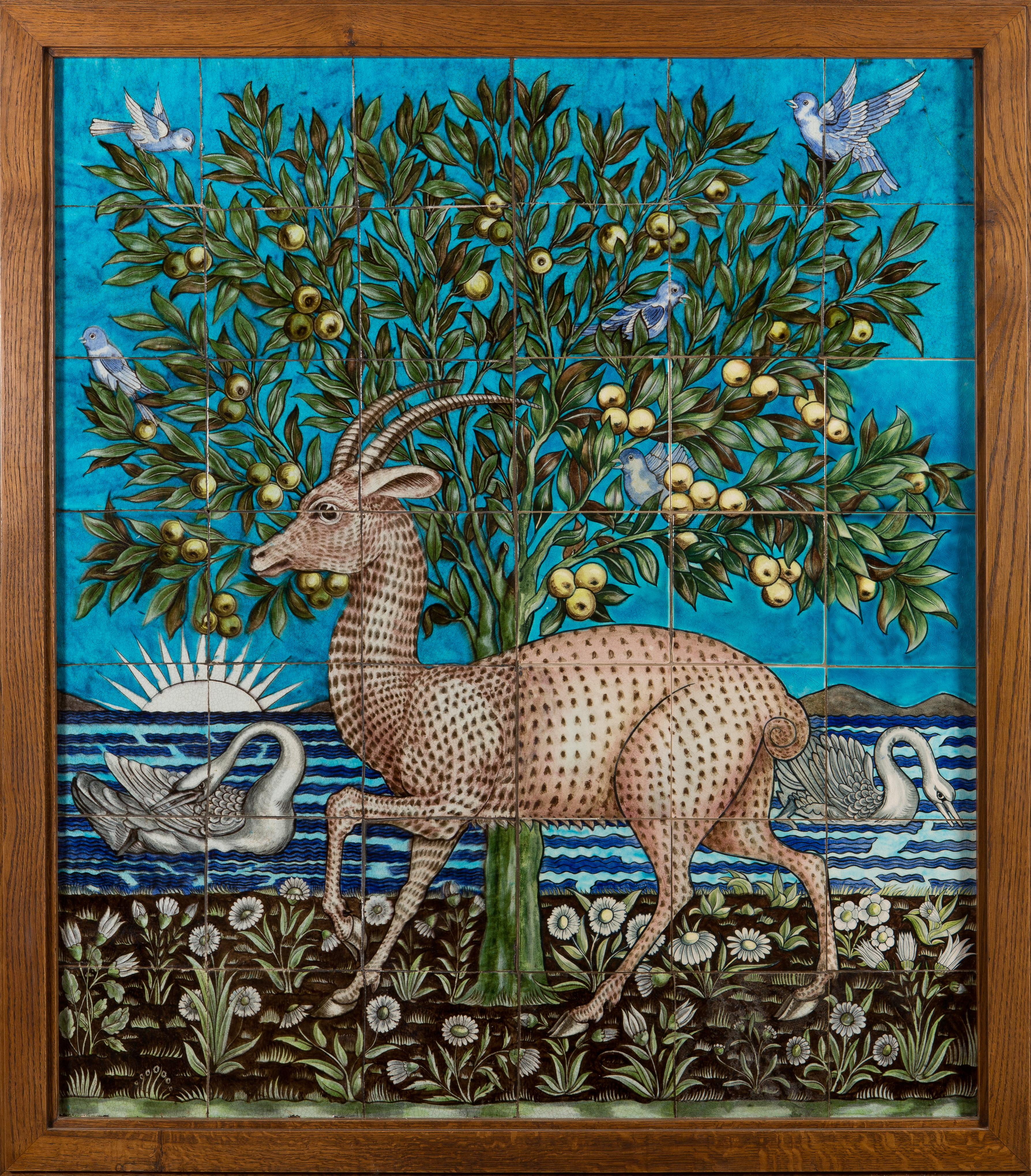 Image: De Morgan Tile, John Scott Gallery (Jackfield Tile Museum)